23rd November 2016 at 2:00pm
If I was to say valuable guarantees, smoothing and market value adjustments (MVA) would you know what I was talking about?
Chances are even if you're a with profits customer you might not.
Research we have conducted indicates that only very few of our with profits customers know that their pension fund has a valuable guarantee.
And it's also becoming a hot topic for discussion at our Retirement Events too, with customers approaching retirement unclear about their options.
A clearer picture
To help provide some clarity, we thought a short introduction to some aspects of with profits might help.
We'll cover the key points and give you the means to find out more later on.
With profits – an introduction
As you approach retirement there are two aspects of with profits that are worth highlighting;-
1)      Your guarantee
2)      Smoothing
1) Your guarantee
Your guarantee means that when you come to buy an annuity (which most people did in the past) at your originally selected retirement date, you get back at least what you invested.* We have also;
Increased the minimum amount you're guaranteed to get through regular bonuses
And if the fund has performed well enough we'll pay you a final bonus** on the day you retire
Guarantees like this are generally not available under new plans and are potentially very valuable.
*Some older plans will allow for initial unit charges   ** Final bonus is not guaranteed
Do I still have to buy an annuity to get the guaranteed amount?
No, due to Pension Freedoms our current approach, which may change in the future, means you'll receive the guaranteed amount however you decide to take your retirement benefits at any age from 55, for example, by taking a lump sum or by taking a flexible income (drawdown) immediately.
But what if I want to transfer out or switch funds?
Conditions apply for guarantees, for example, if you were to transfer your plan or switch your investments before your original retirement date we may apply a Market Value Adjustment (MVA) or Market Value Reduction (MVR). However, you're still receiving your plan's fair payout that takes account of how the fund has performed while your plan has been invested in with-profits.
As with any investment the value of your fund can go up or down and may be worth less than what was paid in.
So, if you're thinking of moving out of with profits, we'd always recommend you seek financial advice first, as you may be giving up valuable guarantees.
How guarantees work
We've mocked up this graph to show how a with profits investment's guaranteed amount and payout value can change over time and how this could result in a final bonus or an MVA/MVR.
The blue line shows how the payout value could change over time. And the dotted line shows how the guaranteed amount (unit value) can grow over time – this is the minimum amount that we'll pay when the guarantee terms are met.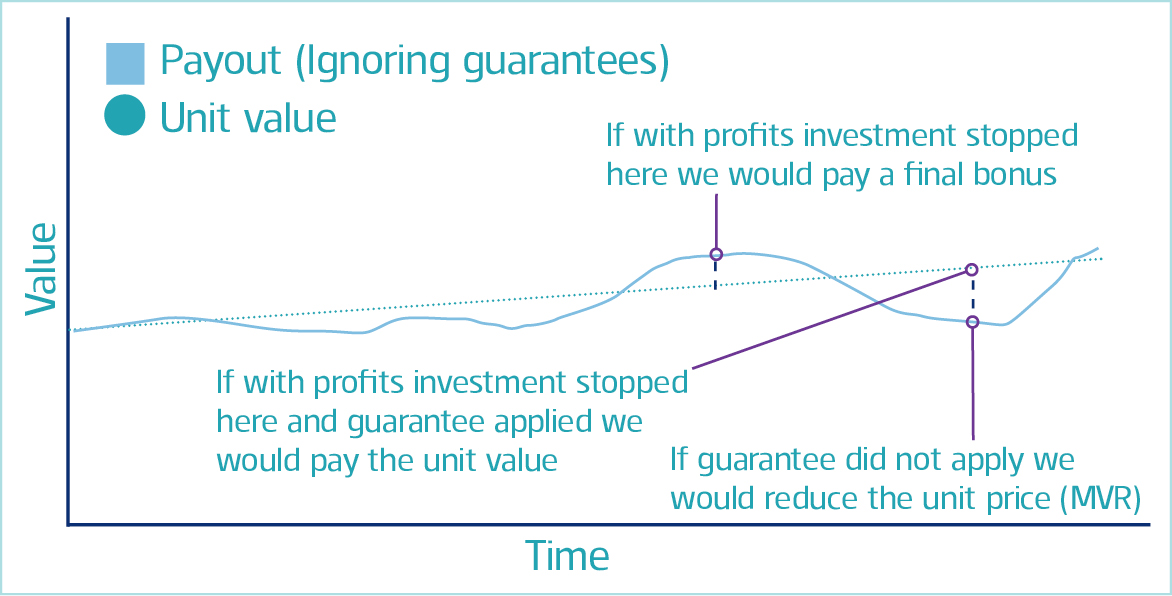 This graph is for illustrative purposes only and doesn't represent actual plan performance. It is only to give you an idea of how guarantees can work.
2) Smoothing
With many types of funds, the final value of your pot is tied directly to market conditions on the day you retire. A drop in the market in the days before you retire could impact the amount of money you'll end up with.
Smoothing is a feature of with-profits investments which helps protect you from short-term market movements. Smoothing aims to even out the day-to-day ups and downs of the market and provides some protection and stability to your plan value.
We aim to pay you the smoothed value at retirement when guarantees apply. We may also apply smoothing to other types of payout.
How smoothing works 
You can see in the illustrative graph below how the value of a with profits investment could fluctuate over time without smoothing (solid line) and how smoothing could affect the payout value (dashed line). The payout will be smoothed down at times and smoothed up at others.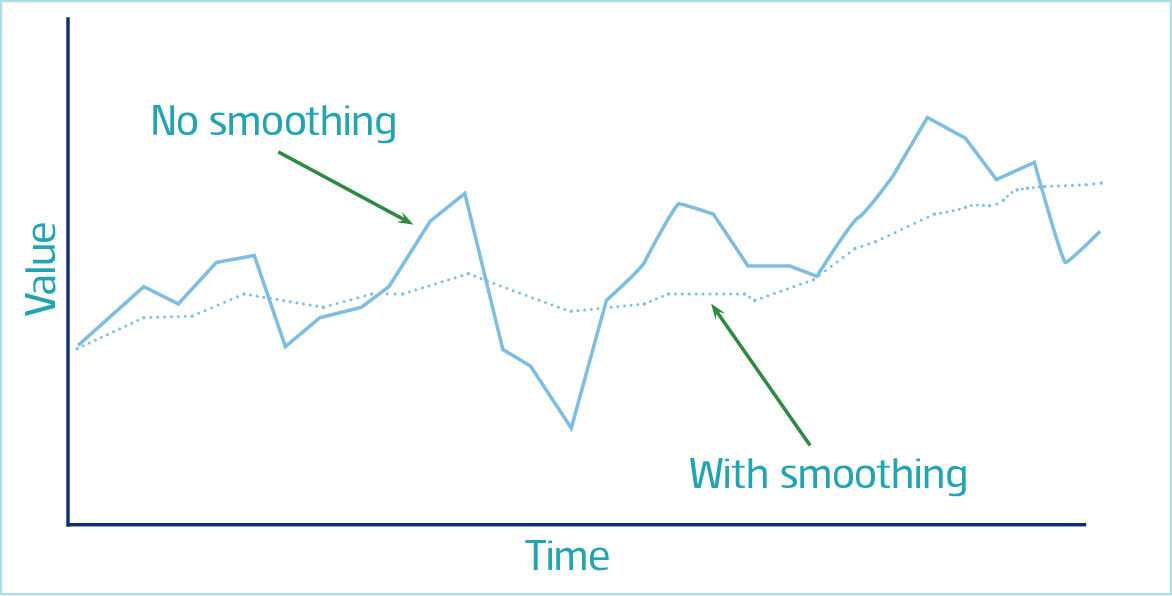 This diagram is for illustrative purposes and doesn't represent actual policy performance. It is only to give you an idea of how smoothing can work.
Find out more
If you'd like to delve a little deeper into the mechanics of with profits, we can help. We've a whole suite of material available online that can help with the finer detail, these include web pages, guides and video. (Please note that Stakeholder with profits pension plans do not have any guarantees, see our Stakeholder guides online to see how these plans work.)
Join the conversation on Twitter @StandardLifeUK and Facebook
The information in this blog or any response to comments should not be regarded as financial advice.
Laws and tax rules may change in the future. Your personal circumstances also have an impact on tax treatment. As with any investment, the value of a pension can go up or down and may be worth less than what was paid in. Information correct as of November 2016.