15th July 2016 at 9:59am
Making a fashion statement is not a new concept, but the way it's done is completely open to interpretation. A bold handbag or brightly coloured coat can certainly make an impact, but it's been done a million times before. Step forward (pun very much intended) the humble sneaker, a well-established trend that is now more firmly in the spotlight than ever before. The fashion world has paid attention, and the market has reaped the benefits. In fact, the international sneaker market is now worth around $55 billion US, having grown by more than 40% since 2004.[i] Beneath all of this is the community driving the growth: the people giving shoe designers a reason to up their game time and time again, and keep that spotlight shining. Meet the sneakerheads.
One Urban Dictionary definition of a sneakerhead is "A person with background knowledge of certain sneakers" – but we think there's a little more to it than that. A sneakerhead is a collector, and it takes certain qualities to be a great collector. Passion, dedication, expert knowledge… sneakerheads can lay claim to all three of these traits, and then some.
In this next chapter of our Collectors' Corner series, we chatted with four influential sneaker collectors, sellers and bloggers to find out how the sneaker-collecting community has changed over the years, and what it takes to become a true sneakerhead.
A growing community of collectors
Collecting sneakers may not be new, but it is a venture that has changed a lot over the years. The age of the internet has spurred on this change, turning up the volume significantly on the hype (more on this later). Nevertheless, as with many of the topics explored in our Collectors' Corner series, sneakerheads have long been driven by passion, rather than money. But we wondered, how does an interest in this field come about in the first place?
"The sneaker culture is not just about buying sneakers. Behind every sneaker, there's a story and history," says Sanne Poeze from Girl on Kicks – a style blog with a focus on sneakers. "When I started collecting almost 12 years ago, it was a completely different culture. The past few years, the sneaker community has grown so fast."
Sanne got sucked into sneaker collecting when she was a teenager, so has seen first-hand how the community has developed over the years: "My best friend in high school was into sneakers. He kind of infected me, and the first pair of sneakers I really went hunting for was the Nike Air Max 1 Beast Pack. Before that I was already wearing sneakers, but I didn't know about releases and all."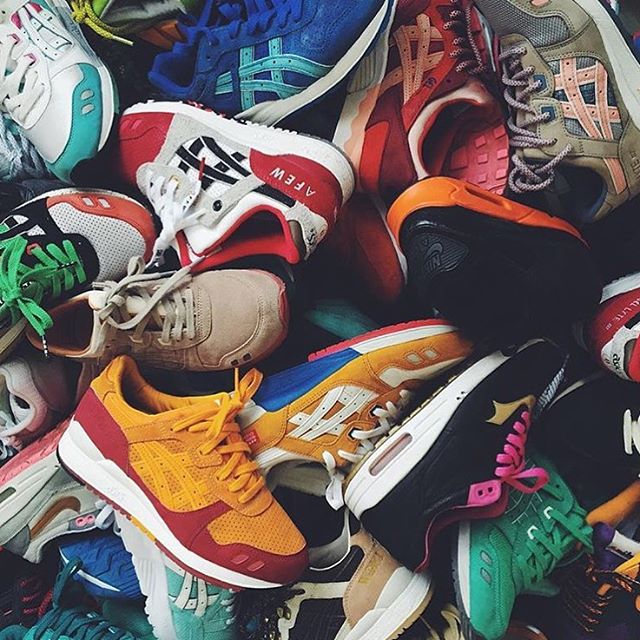 Monsieur Max from sneakerhead community site The Word on the Feet found that owning a cool pair of sneaks was something embedded in the South London street culture that he encountered growing up: "Trainers have always been a part of street culture as far as I'm concerned, and are closely connected to music, sport and of course, are an integral part of London-based and global fashion."
And when he says global, he means global. Monsieur Max runs the Heeling Soles project, a simple, but genius initiative that any sneakerhead (or brand) can contribute to with ease. "The Heeling Soles project aims to help people to walk towards brighter futures, starting with a pair of sneakers or shoes," he explains. "The project was set up in partnership with family members in London and New York, and through the project we have been harnessing goodwill in the sneakerhead community and taking their sneakers to give to those in need all around the globe."
That's the thing about being a sneakerhead – you end up owning a lot of sneakers, and luckily, the community is a generous one. "We have been blown away by the generosity of the sneakerhead community," says Monsieur Max. "Last year at the Brooklyn Museum, we had sneakerheads queuing up to donate their sneakers, and this year in London we received 500 pairs of shoes from Office and another 250 brand new sneakers from Niketown to give to those in need in the UK, the US, Jamaica, Haiti, Mauritania and some of the European refugee camps."
So, it's clear the community has grown into something bigger than could ever have been imagined back when things first kicked off over 30 years ago.
What makes a pair of sneakers valuable?
The trend for collecting sneakers arguably began in the eighties, inspired by Chicago Bulls basketball player Michael Jordan. The original Nike Air Jordan I sneaker was produced for the famous sports star in 1984 and released to the public the following year. The year after that came the release of the Run DMC track "My Adidas". Back then, it was a little more unusual for a hip-hop act to get behind a brand in such a way. Four specially designed Run DMC shoes dropped between then and 1988. Naturally, big bucks can be made on such pairs of trainers today.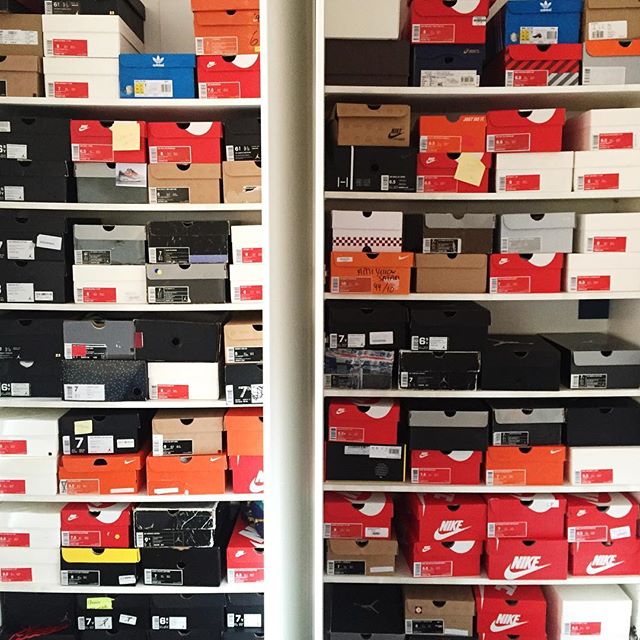 However, it's not just sneakers from original collaborations that tend to be the most valuable, but also more recent celebrity partnerships. "Collaborations with Kith CEO Ronnie Fieg are highly sought after and highly valuable, as are the recent Yeezy sneakers that have been produced in collaboration with Kanye West," agrees Monsieur Max. "Rihanna had a recent collaboration with Puma that was highly sought after, too."
Be warned though, if you want to be accepted into the growing sneakerhead community, you shouldn't buy a pair of kicks just to make money. "So many purchases are driven by hype, or because someone else says the sneakers are worth having, or because of some celebrity affiliation," explains Monsieur Max. "But my advice is do what you like and spend your money how you want to."
Still though, for those of you who may simply be curious about what else makes a pair of sneakers valuable, Wil Benton from award-winning urban culture site Fat Kid on Fire (if you want to learn more about urban culture, pay a visit to his DJ streaming community site, Chew, too) can offer this insight: "Rarity is always the primary value driver – whether that's because of the numbers of pairs made or sold, their availability to the public upon release, the date of release, the manufacturing brand, or if they're special or limited releases or collaborations."
How the internet changed sneaker collecting
It's natural that sneaker collecting wouldn't be the same today as it was thirty years ago, and the age of the internet has arguably made it a more accessible pastime. But, has this changed things within the community?
"In general, I've noticed the culture change and split somewhat in two," says Yani, of sneakerhead site Big Eyes Little Soles. "The older lot (and some of the newbies / younger generation) are old school in their ways, and we bond over our mutual love. It's not about the hype, it's more about the history and the stories behind the sneakers.
"The newer sneakerhead generation – while I love that they love kicks – seem to be all about the Instagram 'likes', the most money spent, etc. There is a middle ground, of course, but I'll stick to my old school ways!"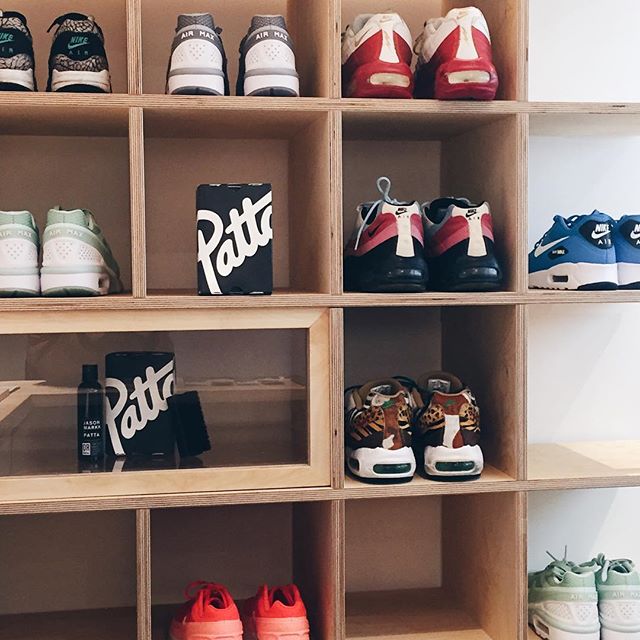 According to Sanne, another downside is that the community has drawn interest from those who are now in it for all the wrong reasons: "Social media has made it way easier to connect with other sneakerheads and to stay up to date with everything that is going on. But there's also a lot of people who saw that there was money to be made in this scene by buying up exclusive releases and reselling them for crazy prices. They didn't start from a passion for sneakers, but a passion for money!"
To put things into perspective, keeping up with sneakerhead news was once done almost purely through word of mouth, so to make money from collecting back then would have taken a lot of dedication. Hence, the original sneakerheads were all driven purely by passion. "The sneakerhead subculture was definitely an underground one that had its roots in the streets, whether that be in London, New York or other European cities like Paris or Amsterdam," explains Monsieur Max. "In the '90s […] you had to be part of that community […] to know what was going on in the scene, what trainers were being released and where."
However, despite the new generation of sneakerheads causing some conflict within the community, the positives that came with the changes can't be denied. A pair of the newest kicks on the market can be ordered seconds after their release; information on upcoming designs and collaborations can all be accessed at the tap of a screen; and sneakerheads can share their mutual passion like never before.
"Online retailing […] allowed anyone and everyone to have access to the rarer drops as they came out – but it also enabled the disparate communities around the world to come together and share their love of sneakers," says Wil. "The same happened as Instagram became more popular – maybe more so than with online retailing. Instagram is the first place I go to check new drops or share my latest purchases."
Becoming a sneakerhead
So, have we piqued your interest? If so, Wil has some advice for you: "Take your time, and collect for you rather than anyone else! Be careful of the fakes; check any pairs you're unsure of, and don't spend too much before you get in too deep!"