9th November 2016 at 11:00am
As you'll know, volatility is all part of investing over the long term. But, in the short term, market fluctuations like we've seen recently can be unnerving and make you 'feel' as if you're losing money.
It's why it's crucial at times like this that you focus on three of the golden rules of investing:
Stay calm and take a long-term view
Avoid locking in short-term losses
Make sure you're properly diversified.
While it's true that whenever you invest you need to accept that you could get back less than you paid in, worries during turbulent markets can mean it's easy to take a short-term view and effectively cheat yourself out of a potentially better performance.
If you can keep your composure and take a long-term view, you're much more likely to meet your all-important financial goals, as those three golden rules highlight.
 1. Keep calm and take a long-term view
Why is it so important to take a step back and keep the long term front of mind? Does it really make that much difference? Yes, is the short answer. Here's why – and how.
The FTSE® index example
What would happen if you held an investment in the FTSE® All-Share index for any three-month period (month end to month end) during 30 years?
The fact is you'd have received a positive return 68% of the time. But if you held it for a 10-year period, you'd have received a positive return 99% of the time. If you held it for 15 years your investment would have delivered a positive return 100% of the time.*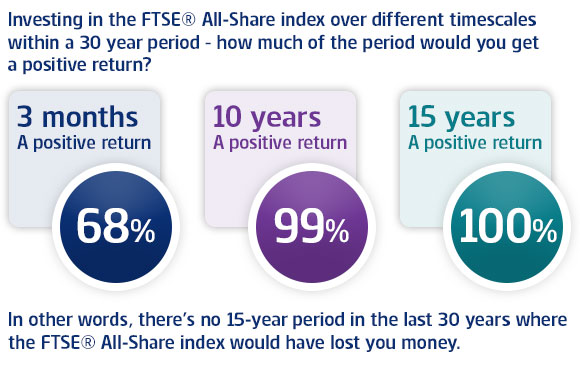 *Index example Morningstar, July 2016. Calculations from 30 June 1986 to 30 June 2016 based on the number of positive periods calculated on a rolling monthly basis at month end. Returns are based on income reinvested (gross).
The funds example
The last ten years have, of course, included the credit crunch. So it might seem safe to assume that this will have had a huge impact on fund performance during that time. In fact, over the last ten years, the overwhelming majority of investment funds have had a positive performance.
Of the 1,249 funds listed by the Investment Association in the UK with a 10-year performance history, 94% gave a better return than cash over that period. And the average return was 5.6% a year.**
So try to remember during short-term falls why you invested in the first place; was it to meet a long-term goal? If it was, keep your focus on that. After all, if you sell at the bottom you risk breaking rule no.2.
**Funds example: Financial Express Investment Association Universe, cumulative returns, net income reinvested, 30 June 2006 to 30 June 2016.
2. Avoid locking in short-term losses
During market falls it's quite likely you'll be tempted to sell some of your investments, and keep the money somewhere 'safer'. But if you do, it means you're likely to be selling after markets have already fallen – and crucially, before they rise again. That means you lock in your loss.
Although it's tempting to take your money out when markets fall, it's not normally a good idea. You run the risk of missing the rebound, and potentially having less money than someone who kept their composure, and their money invested.
3. As ever, make sure you're properly diversified
Periods of market volatility are a valuable reminder of the importance of diversifying – of spreading your money across different types of investments, geographical locations and industries.
If you're investing in only one or two of these then you're actually exposing yourself to quite a degree of risk. But if you diversify across investments, it can help you achieve a much better balance between risk and return. Read more about how to do this in our 'investment basics' article on diversification.
Check where you're invested – regularly
It's so important that you regularly check where you're invested – across ISAs, pensions, shares – to make sure you're diversified.
If you're not, and you don't want to tackle it yourself, there are lots of ready-made options available that can help you do this. Many investment companies have teams dedicated to building and managing diversification strategies. You can even choose diversified growth funds that not only diversify across traditional investments and regions, but also into more complex investment strategies.
What about your pension savings?
If you're still some years from retirement, your pension savings will have time to recover from any short-term losses.
Even if you're getting nearer retirement, or are already retired and relying on your investments for income, you shouldn't panic. There are things you can do to help shelter your pension savings from the worst of any market volatility.
Approaching retirement
If you're getting closer to retirement, make sure you're in investments that will get your money to where it needs to be by the time you retire – whether that's buying an annuity, taking it all out as a lump sum, or keeping it invested and taking a flexible income.
Read more about this in Approaching retirement? Check your silver lining doesn't have a cloud.
Make your money last your retirement 
If you're already retired, there are ways to help protect your money not just from market volatility, but throughout your retirement. Investment expert Jenny Holt looks at how in How can you make your retirement income last?
This blog and any responses to comments should not be regarded as financial advice. Law and tax rules may change in the future. The information here is based on our understanding in July 2016. Your personal circumstances also have an impact on tax treatment.
A Stocks and Shares ISA and a pension are investments. The value of investments can go up or down and may be worth less than you paid in. Past performance is not a reliable indicator of future performance.
Where we mention FTSE, we are referring to FTSE®. "FTSE" is a trademark of the London Stock Exchange Plc and The Financial Times Limited and is used by FTSE International Limited ("FTSE") under licence. Standard Life is licensed by FTSE to redistribute the FTSE All Share and FTSE 100. All rights in and to the FTSE All Share and FTSE 100 vest in FTSE and/or its licensors.
All information is provided for reference only. Neither FTSE nor its licensors shall be responsible for any error or omission in the FTSE® All Share and FTSE®100.