28th October 2016 at 6:00am
As you'll know, when it comes to investing, there's no guarantee that your investments will always go up.
While growing your portfolio and maximising your returns are key targets, the reality is that stock markets have their ups and downs. But there are always opportunities.
Making some effective decisions around choosing and managing your investments could make all the difference to your long-term investment results. So, here we share some insights into creating a well-balanced portfolio.
Asset allocation is key
You'll have heard it before, but diversifying across asset type and geography really is one of the cornerstones of successful investing.
This is often done by fund managers who identify a diverse mix of investments from across the globe to give the optimal balance between risk and returns – the portfolio's 'strategic asset allocation'.
Diversifying your investments – one of the cornerstones of successful investing
The next step is to apply tactical investment views to the portfolio to take advantage of shorter-term investment opportunities. This tactical asset allocation fine tunes the strategic asset allocation with the aim of increasing returns.
A keen investor or a hands-off investor?
Either way there are options
When it comes to applying these asset allocation techniques to your portfolio, you could do all of this yourself, or outsource to a professional fund manager.
Which route you go down may depend on things such as your experience and expertise, how much free time you have, and how much money you're looking to invest.
Core-satellite investing: best of both worlds?
However, for those who want the best of both worlds, core-satellite investing sits in the middle ground.
This consists of a core of long-term investments with an outer layer, or satellite, of more specialist, or shorter-term investments.
As an investment strategy, this allows you to combine two complementary approaches in the same portfolio. It's all about striking the right balance between some carefully-chosen satellite investments and a well-diversified and well-managed core component.
Diversify and spread your investment risk
The potential benefits of constructing an investment portfolio with a stable core of long-term investments could include better diversification and spreading of your risk, greater stability during market downturns, the potential to achieve enhanced returns, and being in control – but with a safety net.
What makes up a good core?
Core investments typically include long-term investments such as highly-diversified funds that are actively managed to minimise significant market falls and maximise market opportunities.
What about the satellites?
The satellites provide the opportunity to tilt your portfolio in whatever way you choose.
Satellites offer the chance to make bolder choices
As the core investment is designed to offer stability, the satellites offer a chance to make some bolder investment choices. They're normally made up of riskier investments which give you more exposure to potentially faster-growing markets with the chance of bigger gains.
What are your options?
If you decide to focus on choosing satellite investments, you could outsource the management of your core investments to professional fund managers.
MyFolio is one of Standard Life's most popular and versatile core investment options. It's an award-winning range of 25 multi-asset risk-based funds, covering five investment styles across five risk levels.
MyFolio funds hold more than £10bn under management
Launched in 2010, MyFolio funds boast over £10bn assets under management (at October 2016). Having MyFolio as part of a core-satellite investment strategy can free up your time to focus on choosing and managing your satellite investments.
And, perhaps more crucially, the funds can give you reassurance that your more stable 'core' foundation is being professionally managed by one of the largest and most successful investment teams in the industry at Standard Life Investments.
Standard Life Investments' specialists sit behind MyFolio and are involved at every stage of the MyFolio investment process, from setting the strategic asset allocation, to selecting investments, and managing and monitoring them.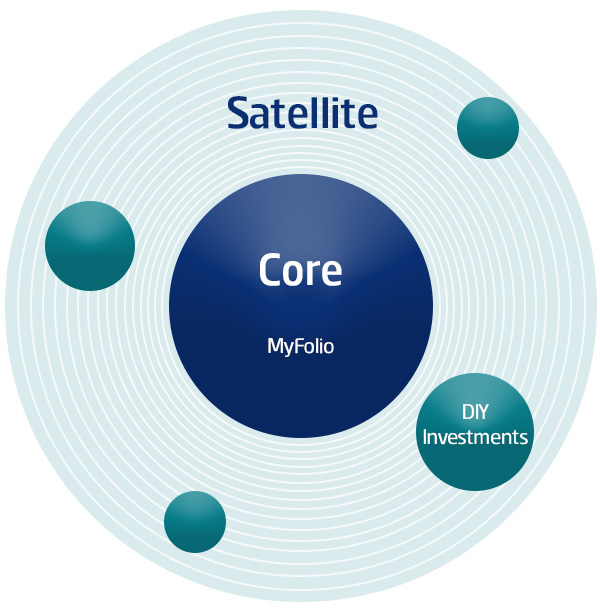 MyFolio funds are constructed in conjunction with Moody's Analytics, who use sophisticated asset modelling techniques to ensure each fund's strategic asset allocation is appropriate for its risk level and offers the best returns potential available.
This means you should choose a MyFolio fund based on the amount of risk you want your core investments to take, from lower risk to higher risk.
Your overall investment risk will depend on the size of your satellite investments and the level of risk you take with these.
A closer look at MyFolio
This example shows the breadth and depth of investment mix and regional exposure that MyFolio offers, making it a perfect core investment candidate.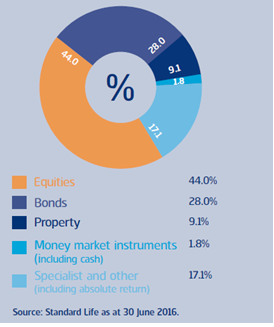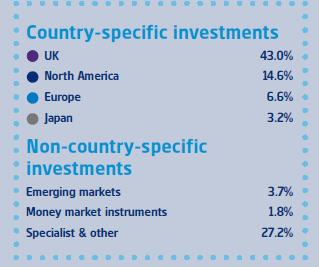 This is for the MyFolio Managed III Pension Fund. (Please note that the figures don't show the detailed holdings of the fund. Figures may not add up to 100 due to rounding. Source: Standard Life, as at 30 June 2016.)
How has MyFolio fared in the recent markets?
If you're wondering how MyFolio funds have done, take a look at the performance of the MyFolio Managed III Pension Fund, our most popular MyFolio fund, over the last five years.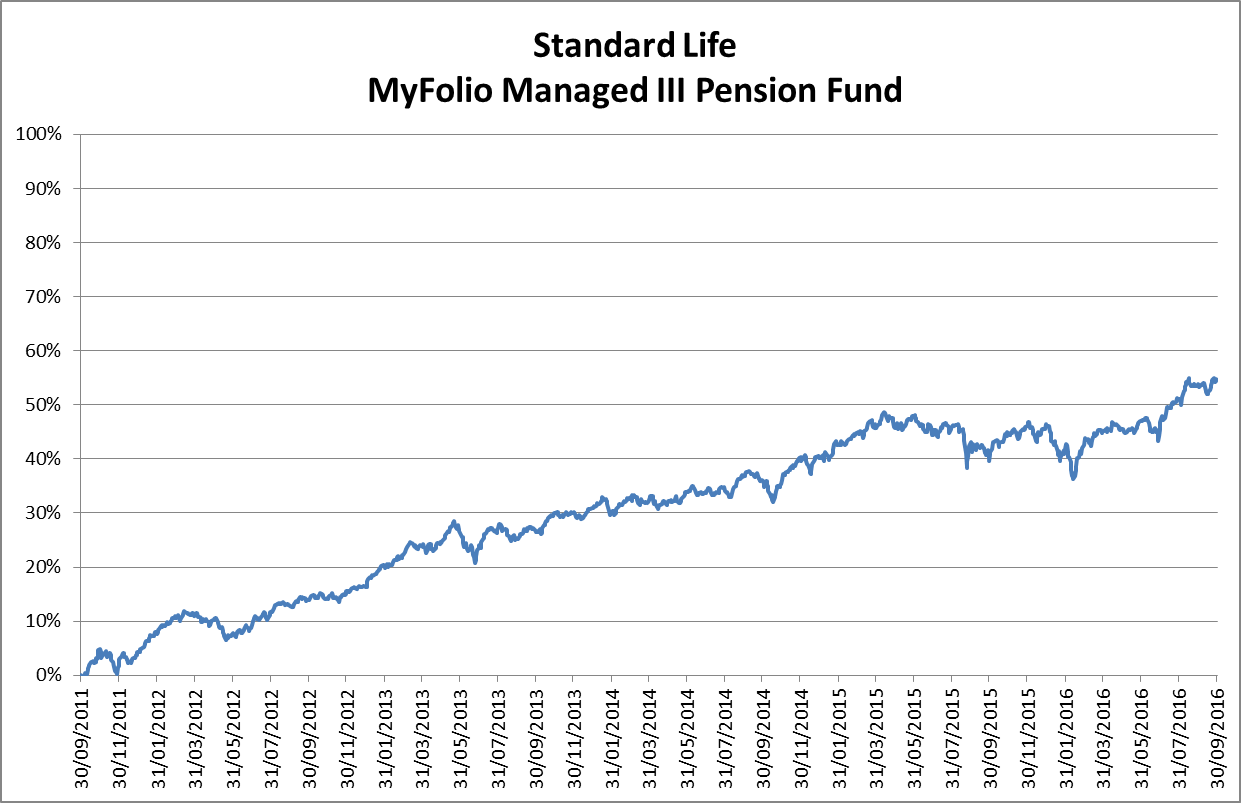 Source: Financial Express, from 30 September 2011 to 30 September 2016. Performance has been calculated on a total return basis net of charges. All returns are expressed in GBP terms.
The chart above shows performance over the full five years. The table below shows individual 12- month periods.
Year-on-year performance
| | | | | |
| --- | --- | --- | --- | --- |
| Year to 30/09/2012 | Year to 30/09/2013 | Year to 30/09/2014 | Year to 30/09/2015 | Year to 30/09/2016 |
| 13.9% | 11.4% | 7.2% | 2.6% | 10.8% |
Past performance is not a guide to future performance
Are you investing in or for retirement?
Although MyFolio funds are suitable investment options before and during retirement, they aren't, of course, the only ones.
If you're investing for retirement, our strategic lifestyle profiles can help prepare your money for how you plan to take it when you're ready.

There are also options if you plan to keep your money invested once you've retired rather than buying an annuity.
As an investor, you have choices
Ultimately, how you manage your investments is down to you, of course.
Perhaps you want to build and manage your own portfolio. If you don't have the confidence to do that, or find you just don't have the time, delegating all or part of the day-to-day management of your investments to experts may be the route you prefer to take.
The value of any investment can go up or down and may be worth less than was paid in.
The information in this blog or any response to comments should not be regarded as financial advice and is based on our understanding in October 2016.