25th July 2016 at 3:00pm
After seven years of positive returns, the UK commercial property market is going through a turbulent time.
Lack of confidence from investors has led to increasing outflows from commercial property funds, while the economic backdrop is making it more challenging to sell properties at the best possible price in short timescales.
As a result, fund managers have been forced to take steps to help protect investors' interests. But while the confidence around property is fragile, the fundamental reasons for investing in it remain solid.
Commercial property – a reminder from history
Over the last few years property has been hot – and that's not just residential property. Commercial property has also proved a magnet for investors, with a lot of money invested into commercial property funds accompanied by good returns.
But it hasn't always been like that. In the midst of the financial crisis in 2007-09, returns fell sharply, like now, prompting many investors to take out their money. This in turn led to significant liquidity issues for many property funds, with fund managers imposing delay periods on their funds to give them time to sell properties for the best possible price, and help protect the value of their funds for all investors. This meant that in some cases investors had to wait months to get their money out.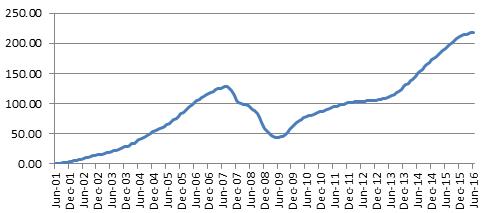 Source: FE, IPD UK Property Index total return %, from 30 June 2001 to 30 June 2016. Past performance is not a guide to the future. The value of investments can go up or down and may be worth less than was paid in.
This is a reminder that property tends to move in cycles, and it's particularly sensitive to economic uncertainty like we're seeing at the moment. If the economy's doing well, generally so will commercial property, and vice versa.
But it's also a reminder that although funds can and do put restrictions on withdrawing money at times, these measures are usually only temporary. And in the long run, history has shown that these actions have been in the best interests of all investors.
What the experts think
We asked our experts at Standard Life Investments for their view on what's happened and the outlook for commercial property.
What's behind the current situation?
"The slowdown in the UK commercial property market that was materialising before the referendum has been exacerbated by the vote outcome. The heightened uncertainty following the result, and the subsequent downturn in business and consumer confidence, are likely to negatively impact the outlook for the economy and, consequently, UK commercial property given the direct link to economic activity."
The impact
"We therefore anticipate increased downward pressure on UK commercial property values because of increased investor caution and the expected weaker economic environment. The magnitude of the declines will depend on the referendum result's subsequent impact on the domestic economy.
We expect Central London offices to be the most negatively impacted sector in the near term given the cross-border trading links with European markets. We expect industrial and retail properties to be relatively resilient given their better income prospects, while properties with stronger tenants on longer leases are most likely to retain their value."
The longer term outlook
"Despite the pessimistic outlook, UK commercial property continues to provide better income prospects compared to other asset classes and commercial lending to the sector is at a much lower level than during the financial crisis of 2007/08. Furthermore, existing vacancy levels are below average in most sectors and development remains relatively constrained – all of which should help stabilise the market over the longer term."
Reasons to stay invested
Although confidence in commercial property funds is clearly low at the moment, the fundamental reasons for investing in them remain the same as they've always been.
Diversification
As commercial property returns don't tend to move in the same way as returns for other investments, it can be used to help diversify portfolios and reduce overall risk.
Attractive long-term income opportunity
It's important to remember that commercial property fund returns are made up of both rental income and the value of the properties owned by the fund. Commercial property can provide more robust levels of sustainable income than other types of investments, such as equities and bonds, because many tenants are looking for long-term premises.
Steady long-term returns
Like all other types of investments, the value of commercial property can go up and down. As mentioned before, it tends to perform in line with the economy. But as you can see from the chart below, commercial property has also proved to be less volatile compared with the returns of equities, while still providing attractive long-term returns.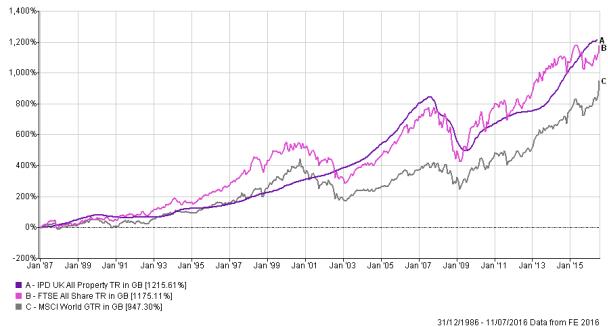 Source: FE, IPD UK Property Index total return, FTSE All Share Index total return and MSCI World Index total return, from 31 December 1986 to 11 July 2016. Past performance is not a guide to the future. The value of investments can go up or down and may be worth less than was paid in.
Taking a long-term view about investing in commercial property is key – it's not a type of investment you should be dipping in and out of. It's also important to be aware of the risks involved, particularly that there are times, like now, when you may not be able to take your money out straightaway.
This blog and any responses to comments should not be regarded as financial advice.
Stocks and shares ISAs and pensions are investments. The value of investments can go up or down and may be worth less than was paid in. Past performance is not a reliable indicator of future performance. Information correct as at July 2016.
Join the conversation and follow us on twitter @StandardLifeUK and Facebook.
Have your say. We'd love to hear what you think. Simply leave your comments below. You don't need to register to do this. Leave us your comments and details and you can post as a 'guest'.