5th December 2016 at 3:30pm
Few fashion accessories are packed with as much innate glamour as a pair of stylish sunglasses. Whether you're a dedicated fashionista, looking to add a dose of mysterious chic to your latest look, or simply a practical sort who wants to shield your eyes from the sun, a good pair of sunnies is a vital addition to most wardrobes.
For some wearers, however, a single pair is never going to be enough. Enter the world of the sunglasses collectors, who take the time to hunt down quirky, unique and highly covetable frames, usually from vintage collections, and gradually amass a selection of the most distinctive sets of shades.
The term 'sunnies' is in the English Collins Dictionary
In this edition of Collectors' Corner, we speak to two experienced collectors of vintage sunglasses, both of whom also run businesses selling the rare frames, to cast some light on the world of shades.
Image: Fool4myCanon under CC2.0
Collecting an iconic accessory
"Vintage eyewear, although a vastly growing market, is still a very small community," says Tamer of Lunetier Vintage Eyewear, which specialises in frames from the 1930s through 1990s. "Bear in mind that when most people hear the word 'vintage' they automatically think second-hand. I, like a handful of reputable collectors/dealers around the world, focus only on what we call 'new old stock' – that is, original vintage models that were never worn or sold back in the day for whatever reason. Most frames have a story or history behind them, and that's what my customers like to hear."
It's this story behind the shades, their design and influence that makes sunglasses collecting so intriguing and addictive. Owen Rose, of Vintage Sunglasses London, which specialises in unworn designer frames from the 60s through 90s, admits that he "started collecting sunglasses around 2010 by mistake, to be honest, through a business contact. But like with anything else, it became a passion, and I was so addicted."
Sunglasses – one of the most versatile ways to update a look
Today, sunglasses represent equal parts mystery, glamour and edgy cool – making them one of the most versatile ways to update a look. But where does this intrinsic fascination come from, and how did sunglasses come to be seen as such a symbol of effortless cool.
A sun-drenched history
Humans have been using various materials to shade their eyes from the sun for thousands of years.
In the Arctic, the Inuit traditionally wore "glasses" made of walrus ivory with narrow slits to help ward off the glare of sun on snow, while the Roman emperor Nero is said to have worn polished gems, such as emeralds, over his eyes while watching gladiator fights in the arena.
Glasses made of smoky quartz crystals were worn as early as the 12th century in China, both to protect the eyes from bright light and to shield the facial expressions of judges during court trials.
By the 19th century in Europe, tinted spectacles were often prescribed to syphilis patients to assist with the light sensitivity that was common with the disease.
Sunglasses worn as early as 12th century
It was only in the 1920s that sunglasses began to gain widespread popularity and affordable, mass-produced versions became available. This was the result of their adoption by early film stars, who were eager to conceal their identity from adoring fans, as well as the growing fashion for beach holidays, for which sunglasses provided useful protection, as well as a touch of glamour.
Image: Kārlis Dambrāns under CC2.0
The birth of classic designs
Over the next several decades, Hollywood legends such as Grace Kelly and Ava Gardner helped establish sunglasses as an essential accessory for the stylish woman – and who can forget Audrey Hepburn in her classic Ray-Ban 'Wayfarers' in Breakfast at Tiffany's, or Jackie Kennedy Onassis in her oversized 'Jackie-O' frames?
Meanwhile, the invention of the Ray-Ban 'Aviator' glasses as an aid for fighter pilots in World War II gave added appeal for men. Later, Ray-Ban shades would get a certain rebellious image thanks to celebrities such as James Dean, Bob Dylan and Marlon Brando, who have all worn the style.
"Sunglasses today are in general tweaked versions of vintage models I have in my store," says Tamer. "I've lost count of the amount of times that customers have walked into the store and said things like 'They're the new so-and-so'. I then have to correct them and say "No, so-and-so are like these – these came out 30 or 40 years ago'."
The allure of vintage sunglasses
While specific sizes, shapes and colours go in and out of fashion, many of the classic vintage sunglasses designs have an enduring appeal that's particularly attractive to collectors.
"I have to say I find most sunglasses today uninspiring," Tamer admits. "Back in the day, there was creativity, design, visionaries, risk takers. Where have they all gone? Today, it's all about mass production and appeasing shareholders. This is why, in general, the vintage scene has had a huge increase in popularity among the average person. I'm not talking just about eyewearhere. I'm talking about clothing, watches, jewellery and furniture. That's because, like eyewear [these things] were designed by people who knew the longevity of their designs. They're even more relevant today than they were back then. Now that's design!"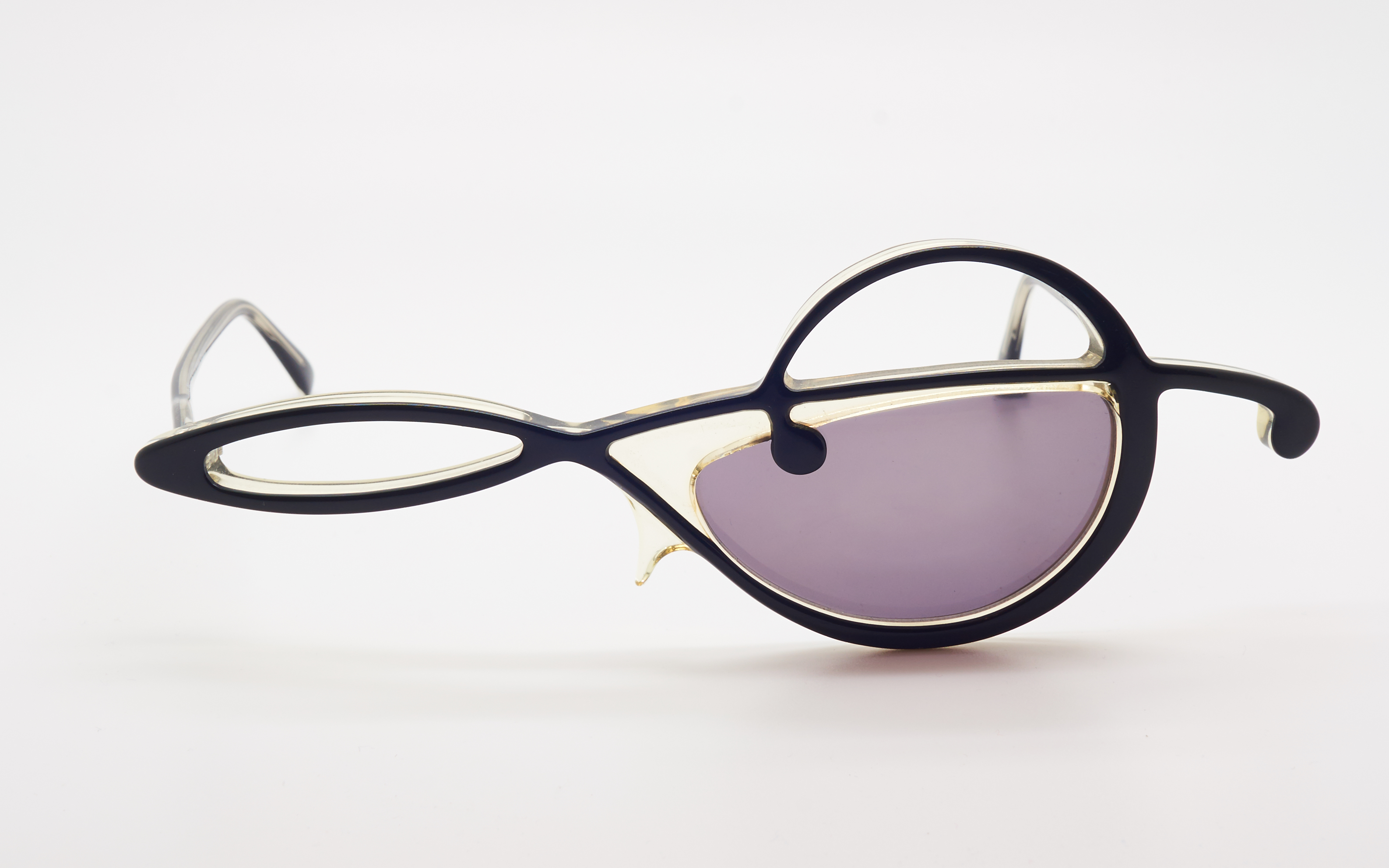 Image: Lunetier Vintage Eyewear
What makes a pair of sunglasses collectible?
While most people purchase sunglasses to suit their personal taste, there are certain factors that can increase the demand for a particular vintage style. "The rarer ones [were produced] in limited numbers, or a piece that may have been worn by a celebrity from another era," explains Rose.
Tamer agrees that production numbers and the frame's history both influence demand: "Was it a model that was worn by someone famous, such as Steve McQueen, or perhaps [a pair] even owned by them? For example, I am currently selling a pair of sunglasses which were designed by and belonged to Elsa Schiaparelli in the 70s.
"Then, did they actually go into production, or were they a prototype or made just for a runway show, special event, film, etc.? Then if a celebrity such as Lady Gaga is seen wearing a particular vintage model, I get inundated for requests for that model, which I could have had for years."
So what are the most covetable shades owned by our experts? "The most expensive piece I own is a rare pair of Oliver Goldsmith 'Tennis Rackets'," says Rose. "I was introduced to a member of the Goldsmith family at an optical fair, who sold them to me."
"I have several very, very rare pairs of glasses which I love all for different reasons," says Tamer. "I think the most noteworthy pair I have are the Alain Mikli 'Clé de Sol'. [The design] is based on the treble clef music note, but there is an interesting history behind it.
"20 pairs were originally made by Alain Mikli for fashion designer Claude Montana in 1986/87. It was for one of his runway shows, and who was sitting in the front row? None other than Andy Warhol. He loved the glasses and was given a pair. There is a picture of him wearing this model. It is believed that there are only seven pairs left in private collections around the world, and we are all wondering, could we have the pair that was given to Warhol? I was recently offered a substantial amount of money for these but they're not for sale."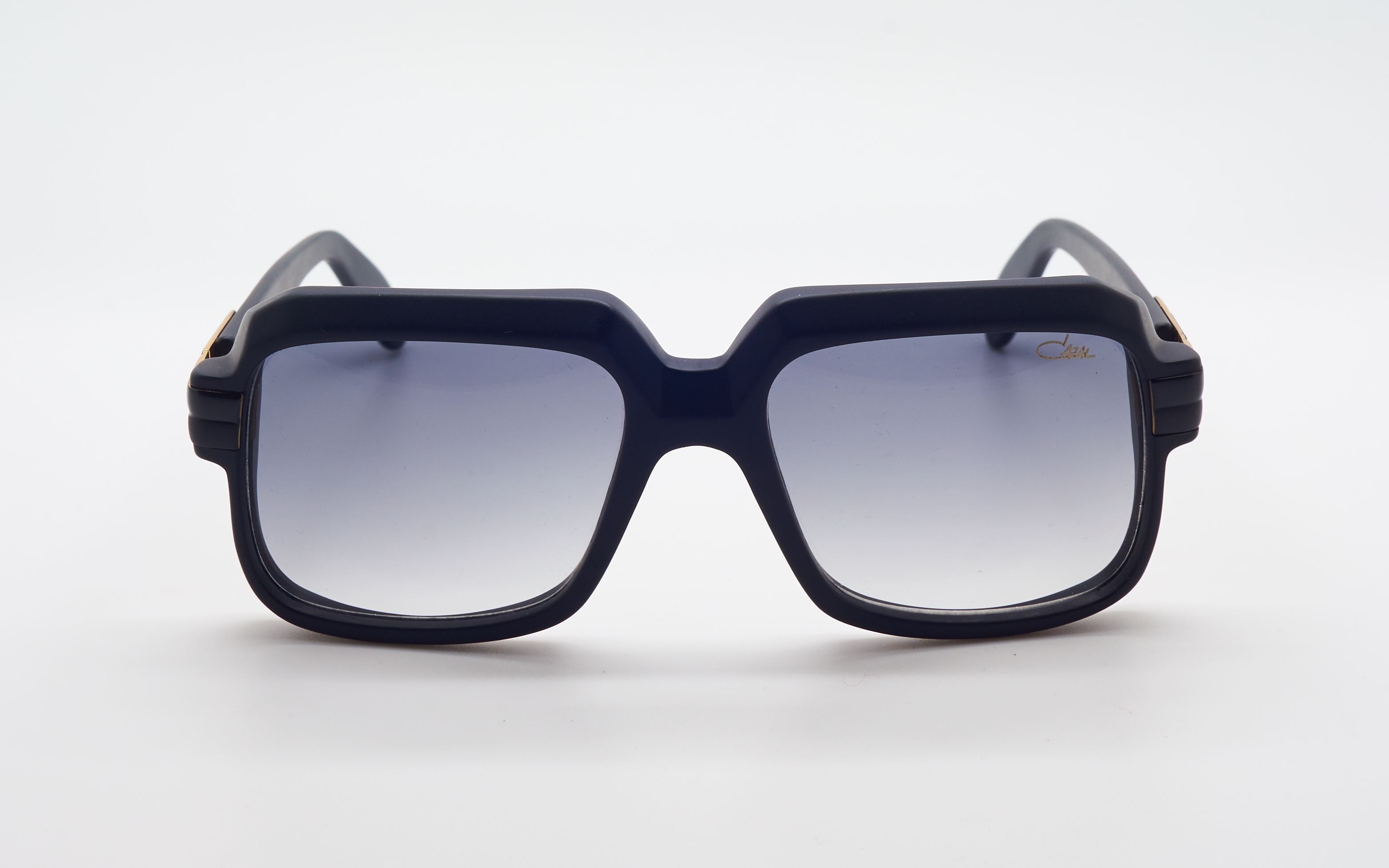 Image: Lunetier Vintage Eyewear
Shady shades
In recent years, fake designer shades have become more and more prevalent on the market. How do you make sure you're getting an authentic item when sourcing a vintage pair?
"Fakes are everywhere and I have clients who have been stung by this," says Tamer. "I'm glad to say that I've never seen a fake vintage model. Probably because the designs and market are too small to appeal to the counterfeiters.
"However, there is a vintage brand called Cazal which made its name on the 80s hip hop and dance scene in New York. A few years ago Cazal decided to reissue some of their most coveted models. A typical authentic Cazal reissue should retail at £350+. Obviously not a small amount of change, but they are a quality product made in small numbers. Fakes started appearing all over the web and internet auction sites for around £75 to £100. Even Cazal put a note up on their website to warn people about these. I had a number of customers who walked into my store wearing what looked to be Cazal, but after asking to look at them, I had the horrible task of informing them they were copies."
So how does Tamer spot the fakes? "The first thing I look for is the size. Usually there is a slight discrepancy in the dimensions compared to the original. Then the logo and quality of printing on the inside of the arms. Then the quality of the hinges and other small components. And finally the weight of the frame. Usually they are a lot lighter than the originals due to inferior plastic materials.
"I've never seen any other faked vintage models, but I do believe there were some fake Ray-Ban B&Ls that came out of Malaysia about 10 years ago. However, it didn't last long as those who collect and bought them knew straight away as soon as they arrived. I guess it's the old cliché, 'if it's too good to be true, it usually is'."
Starting your own collection
"If you're looking to start collecting, eBay and car boot sales are good places to source [vintage sunglasses]," says Rose. "Also [look for ideas] on social media sites, like Instagram or Facebook."
"Buy what you like and [what] suits you," Tamer also recommends. "I've had several clients over the years who never had a pair of vintage frames and started this way. Now they have around 20 to 30 pairs. Also, buy from a reputable dealer, especially if you want NOS [new old stock]. Many sellers on internet auction sites and other online platforms claim to have NOS frames, but what they really have are used frames which have been refurbished.
"Don't buy what you think is going to be the 'next big thing' as it usually isn't. Collecting vintage eyewear is a passion and hobby like any other [kind of] collecting. It's not about making money, it's about having something different, unique and original."
Do you have a vintage sunglasses collection? Follow us on Twitter and Facebook and share your favourite snaps.
The information in this blog or any response to comments should not be regarded as financial advice and is based on our understanding in November 2016.