26th September 2016 at 8:15am
Anyone who is a keen reader has probably at some time amassed a book collection of sorts – shelves (or sometimes piles) of volumes they've read and decided to keep, encompassing everything from the latest bestsellers to childhood favourites and old class textbooks.
However, some bibliophiles build their personal libraries in a much more serious and targeted way – one that appreciates books as objects of value in and of themselves, and not merely as reading material.
Welcome to the world of rare book collecting.
In this edition of our Collectors' Corner series, we take a look at a fascinating hobby and learn more about the enduring appeal of books in this modern, electronic age.
Vintage volumes in a digital age
Even though digital forms of entertainment are prevalent today, and people are just as likely to download the latest releases to their tablet, e-book reader or even their smartphone as to purchase a physical book, there's no denying that traditional books still exert a powerful allure.
"There is still a great appeal, both for readers and for collectors, for the book as a physical object," says Christiaan Jonkers, founder and co-owner of Jonkers Rare Books on Hart Street, Henley on Thames, Oxfordshire, who has been in the rare book trade since 1994. "Many rare books are much more than a vessel for the text; a first or significant edition of a great work is the original physical representation of the thoughts and endeavours of the author, printer and/or illustrator."
Richard Davies, PR and Content Manager at AbeBooks, an online marketplace for used, rare and out-of-print books, agrees: "A physical book cannot be beaten. It's hard to develop a bond with a digital file. People love real physical books because they carry so much meaning and emotion."
"Collectors tend to value a book as an object, and not for its written content. The bindings, the illustrations, the author's signature, the first edition status. They will already know about the importance of the content and different factors come into play when collecting. People want to own something that has personal meaning to them or something that is a little piece of history."
There is still a great appeal, both for readers and for collectors, for the book as a physical object
So what makes a book collectible?
People's motivations for collecting books are diverse and often extremely personal.
While some people view rare books as an investment, the vast majority of collectors are inspired by their own interests: a favourite author, a particular subject, or an era or style of book. For this reason, it can sometimes be difficult to gauge the value of a book. However, there are some general principles that help define how "rare" or "valuable" a book is considered to be.
"Market rarity is simply an imbalance of supply and demand, but with books there are a number of other factors," Jonkers explains. "The level of historical significance, influence or social impact – what booksellers rather pompously call the "importance" of a book – is the main reason for books to be sought in the first place."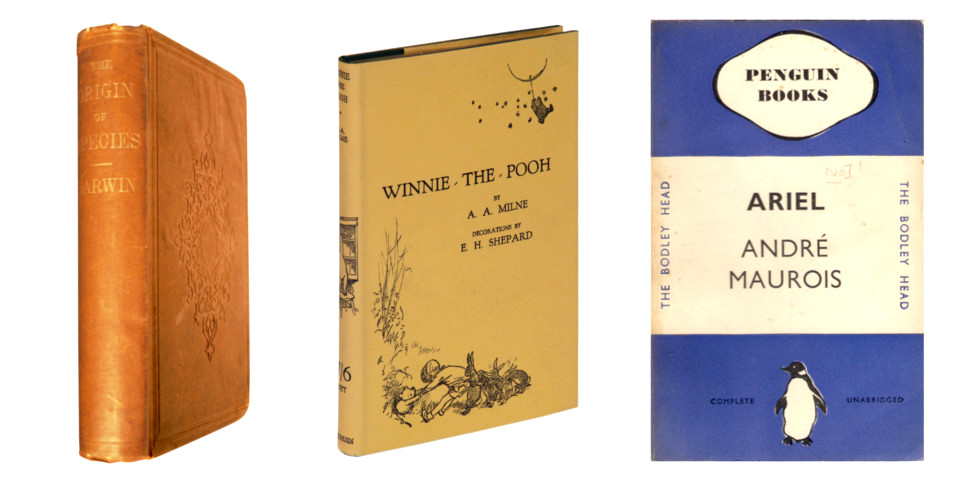 1. Origin of the Species 1st US Edition, 2. Winnie The Pooh 1st Edition, 3. 1st published Penguin Paperback. Images courtesy of Abebooks
Davies cites Charles Darwin's On the Origin of Species, Karl Marx's Das Kapital and early printed versions of the Bible as good examples of books possessing this cultural and historical significance.
It can sometimes be difficult to gauge the value of a book
"Availability is also very important," he continues. "A famous example is Harry Potter and the Philosopher's Stone. Only 500 first edition copies were printed, and 300 disappeared into the British library system. That means there are only a small number of first edition copies of an extremely famous book in existence. When demand outstrips supply, prices rise. AbeBooks sold a first edition of The Philosopher's Stone for £20,000 in 2005 at the height of Pottermania."
So what else do rare book collectors look for?
"Condition is very important to a book's value and often requires an expert eye to discern repairs or restoration," Jonkers notes. "Other factors include the edition, binding, state or issue (subtle textual changes made within a print run which can give an indication of priority). It all goes into the melting pot out of which a price emerges."
Condition is very important
Sometimes an added detail will lend a book extra desirability. For example, Davies points out that the author's signature or "the presence of the original dust jacket" can add to a volume's value.
Another attractive factor? The volume's own individual history. "We handle a lot of books which have been given, often inscribed, by the author to someone they knew who had an influence on the author's life and writing," says Jonkers. "There you have an added historical dimension: that unique book representing a cross section of the author's life with their writing."
Trends in book collecting
While these principles of collectability generally hold true, the rare book market is still an industry in flux. "Collecting fashions ebb and flow, influenced by the motivation for collecting as much as by what they collect," explains Jonkers. "When I started helping clients build collections, there was much more interest in collecting deeply into and around a subject, rather simply picking out the few best-known, more influential works – high spots, as the Americans call them.
"For instance, we have helped put together a number of exceptional collections of the works of Beatrix Potter, rich in diverse materials such as letters, manuscripts, original artwork – even some of the early merchandise, or Potter's very rare first appearance in print, which was published by Victorian card manufacturers Hildesheimer & Faulkner in 1891 and which only exists in a small number of copies. A collection of that sort built a three-dimensional picture of the author. The alternative is to simply buy a perfect first edition of The Tale of Peter Rabbit and move on to the next author or subject: almost collecting by numbers."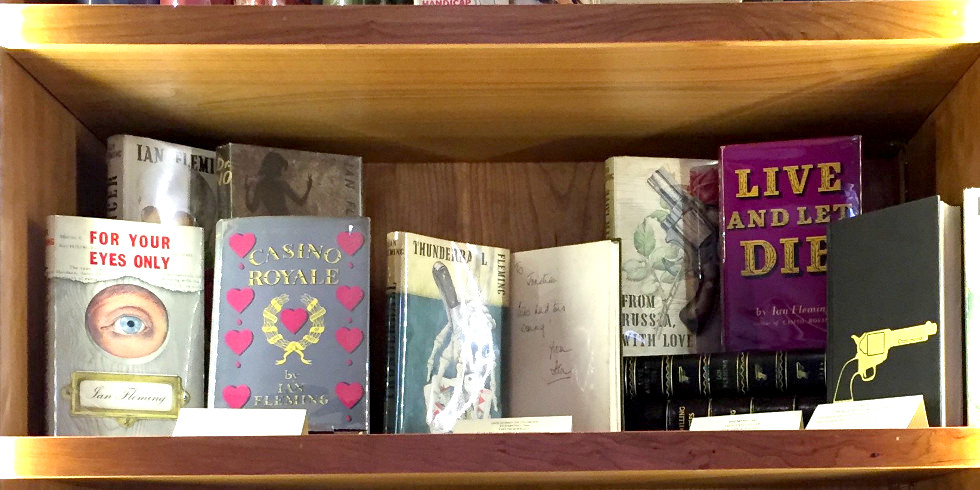 Image courtesy of Jonkers Rare Books
The rare book market is an industry in flux
"Some authors will never go out of style and rare editions of their work will always be desirable," Davies observes. "Dickens, Steinbeck, Faulkner, Woolf, Vonnegut, Hemingway, Orwell, Fitzgerald, Joyce, Kafka, Capote, Tolkien, Carroll, Wilde: the legends." However, he also notices trends within the industry: "The desire for signed Harry Potter books was the last major trend. We also regularly see smaller trends for lower-value books after something has happened in the media or the entertainment industry" – such as a book winning an award, or being adapted as a movie.
Book collecting and the internet
One of the biggest changes the rare book trade has seen in recent decades has been the emergence of the internet and online shopping. AbeBooks was at the forefront of the industry's gradual shift to encompass a digital marketplace. "Our role in the rare book collecting community goes back to 1996, when we went live with our first website," Davies explains. "One of our founders was a bookseller who simply couldn't find the very specific books her customers needed, and the internet was the answer."
The biggest challenge for the rare book trade is….the internet
So what has been the impact of this change in how customers source their collectible books? "The Internet has massively changed book collecting," says Davies. "Firstly, before the Internet, you could have visited 20 bookshops on a quest to find a particular first edition or an out-of-print book and still failed to find a copy. Today, you can most likely find that required copy in 20 seconds on AbeBooks. Thousands of sellers around the world, including many used and rare bookshops, list their books for sale on our sites.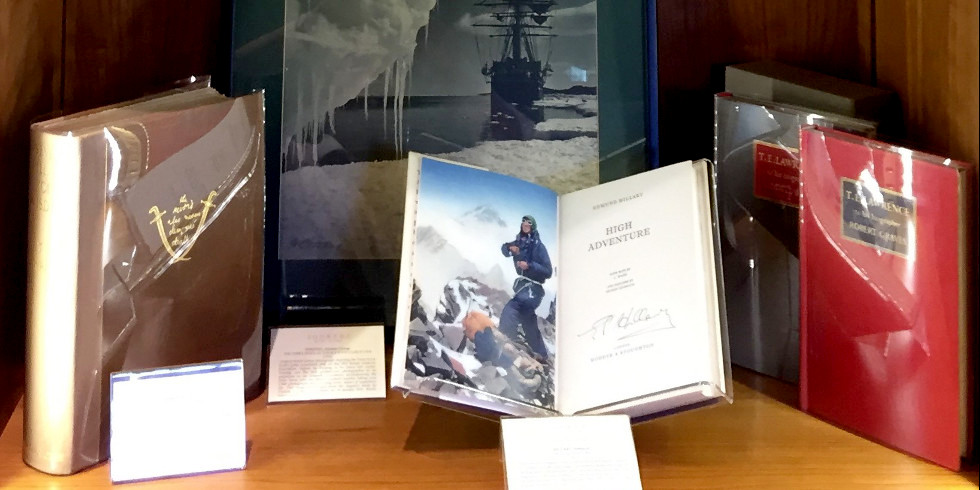 Image courtesy of Jonkers Rare Books
"The Internet also empowers the customer to browse and compare multiple items and in the used book business this is vital. Condition, and being able to compare books in different conditions, is everything when buying a collectible book. A slight tear on a dust jacket can lower the value of a rare book by a significant sum – the informed collector will browse multiple copies and select the one that fits their collection and budget."
Tips for the beginner book collector
Interested in starting your own book collection? Here are a few pointers to help you fill your shelves:
Focus on your interests, not money
"I always advise people to collect what they know and love," says Davies. "Stick with the authors and genres that you are already familiar with. Don't try and collect for financial gain. Remember that you don't have to spend thousands of pounds to build an amazing book collection – only a few people can collect John Steinbeck first editions, but everyone can collect vintage Penguin paperbacks or beautifully illustrated children's books from the 1950s."
Collect what you know and love
Jonkers agrees: "Buy what interests you rather than what might be the "right" thing to collect. Avoid buying with investment as the primary motivation. This does not mean you should not buy carefully or take an interest in the current market value of your collection, but remember a perfect or unique copy of a book may cost twice the price of an almost-perfect copy. The investor will think the almost-perfect copy at half the price is the shrewder buy, whereas the passionate collector will buy the perfect specimen. More often than not, the collector buying with passion will end up with the greater increase in value."
Avoid buying with investment as the primary motivation
Find a reliable source of books
"Find a bookseller who you like personally and trust professionally and listen to them," suggests Jonkers. "If they are knowledgeable and reputable, they will guide you through the labyrinth of rare book buying, advise you on the right copies to buy, find the books you are seeking and give you first option on a gem they have just acquired if they think it will fit your collection. Many of the greatest collections assembled have been created using essentially one source."
Find a bookseller who you like personally and trust professionally
Davies agrees that it is important to ask and learn and advises spending time in used and rare bookshops. "Booksellers have immense knowledge about collectible books and are happy to share it."
Take care of your books
"For the most part books are pretty hardy objects and don't require much special handling, just a bookcase in good, pleasant living conditions," says Jonkers. "Avoid direct sunlight, damp or intense humidity if at all possible. Fire is not much good for them either!"
Be careful when shopping from unknown sellers
"If it looks and sounds too good to be true, it probably is," Jonkers advises. "Until you have great experience or expert guidance, be very wary of auctions. Online auctions are like roulette: you should only bid what you are prepared to lose. Established auction houses are better, but there is still wide variation in quality and the cataloguing expertise is usually pretty thin. They may seem appealing, but without a great deal of knowledge they are a very easy way to spend a lot of money unnecessarily."
If it looks and sounds too good to be true…it probably is
Remember that book values can decline as well as rise
"Just like the stock market, the value of rare books can go down as well as up," Davies observes. "Prices for signed Harry Potter books are much lower now than in 2005. Prices fluctuate according to supply and demand, and demand can be affected by international exchange rates, the economic climate, and current events, like elections. Some authors are famous for signing anything and their signed copies are usually very affordable. But once a famous author dies, there will be no more signed copies coming onto the market, and prices rise as copies are bought up. Look for provenance (that's proof of an item's history) when spending larger amounts."
Prices for Harry Potter books are much lower now than in 2005
The rarest of the rare
Finally, we asked both Junkers and Davies about the most valuable, unique or rare volumes they've seen pass through their respective shops.
In January 2015, AbeBooks sold a rare ornithology book from 1765 for £125,000," says Davies. "That's our record sale. The book's lengthy Italian title could be translated and shortened to A Natural History of Birds. Published in Florence in Italian in five volumes, it contains 600 beautiful hand-coloured engraved plates of birds. Commissioned by Maria Luisa, the Grand Duchess of Tuscany, the book took 10 years to complete. Only 10 complete copies had been offered at auction in the past 40 years."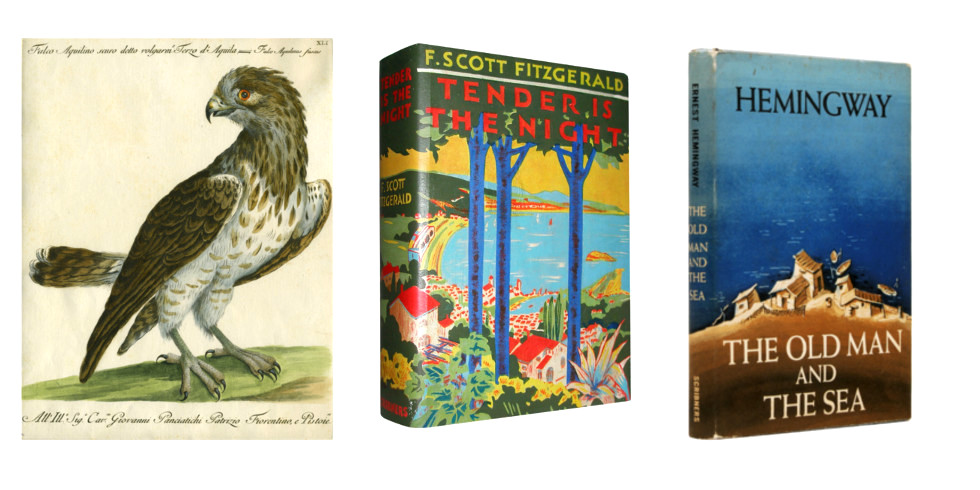 1. Natural History Of Birds, 2. Tender is the Night 1st Edition, 3. The Old Man and The Sea 1st Edition. Images courtesy of Abebooks
Jonkers points out that the question is in fact complicated: "Uniqueness is the ultimate rarity, and we have sold countless unique books – although not all of them are very valuable. There are also many valuable books which are not unique. For example, a first edition Casino Royale, the first James Bond book, might cost £50,000 in excellent condition, but we probably sell two or three a year. Conversely, it took twelve years to sell Poet Laureate John Masefield's copy of W.H. Auden's first appearance in print – a unique book and a marvellous association – for £600.
"When uniqueness and demand are combined is when things start to get interesting. A copy of T.E. Lawrence's Seven Pillars of Wisdom inscribed to E.M. Forster; James Joyce's Ulysses,inscribed to his brother; the only presentation copy of Jane Austen's Emma to be offered for sale – these all sold for over £200,000."
It took twelve years to sell Poet Laureate John Masefield's copy of W.H. Auden's first appearance in print
Ultimately, it comes down to which books appeal to your tastes and interests – these are the volumes that will bring you the most pleasure, regardless of price.
Do you have a collection of rare or interesting books? Start a new conversation and follow us on twitter @StandardLifeUK and Facebook. Use the hashtag #collectorscorner.
If you liked our latest feature on Collectors' items, you might find these interesting:
The information in this blog or any response to comments should not be regarded as financial advice and is based on our understanding in August 2016.
Have your say. We'd love to hear what you think. Simply leave your comments below. You don't need to register to do this. Leave us your comments and details and you can post as a guest.